1988 Honda Goldwing GL1500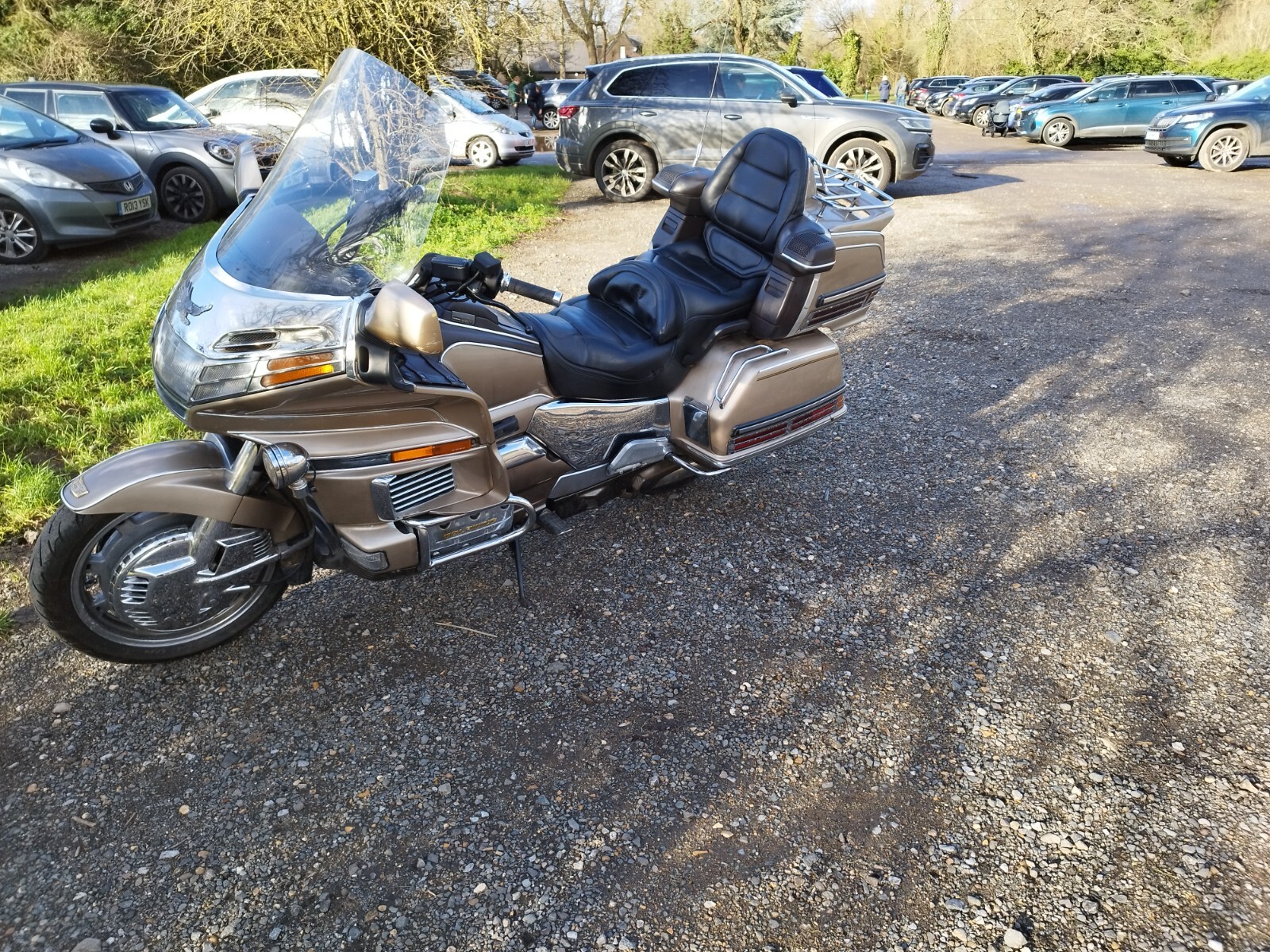 1988 Honda Goldwing GL1500 
For Sale
1988 Goldwing GL1500 in standard metallic Gold with brown trim
This is a mechanically sound bike and looks good for age – its a smashing looking bike and its a full runner with a strong engine but its obviously not as new condition its 35 years old!
so please study photos (more will/can be added)but could no doubt benefit from some aesthetic maintenance and minor repairs – there is nothing major here more a case of how perfect you want to make it –
It has a fair amount of chrome trim but could do with a tidy up and there are a few scratches, blemishes and small trim items to be replaced, adjusted etc.. (consummate with age ) if you want to – just a question of choice and how much you want to improve it – but it is still a fine looking vehicle as is…i use it regularly for weekend fun and a little commuting.
bike has some highway lights (accessories) bar and air horn fitted also comes with a towbar – i took this off, but wiring and plug is still there behind bodywork panel if you want to refit it.
These are big bikes, like a land yacht really, but they handle nicely and surprising nimble with quick turn of power if you need it but its happy to ponder along all daylong at 70!! Very comfortable and capable cruiser .
| shall no doubt have one again in the future!!
works since i have purchased it:
Brake calipers front and rear stripped cleaned with new seals, nipples, pads replaced
front and rear wheel bearings replaced
new air filter, plugs and carb clean out
engine oil and filter change (prior to sale or ill give you the parts and you can do it)
final drive oil change (prior to sale or ill give you the parts and you can do it)
V5 documentation present
6 month MOT (may 2023)
I purchased this 6 months ago and have very much enjoyed riding it but I have purchased something newer and don't need it anymore – rather than letting it stand for long periods I would rather someone took it on, looked after it and enjoyed it.
Vehicle can be viewed daytime most days, (in central watford ) I would encourage you to do so, (photos only go so far)
I'll demonstrate its fully working, come have a look, ask any questions you want.
Conditions of Sale
Uk bids only
Buyer collects (or you can arrange a bike courier and I'll co-ordinate with them)
Cleared payment prior to collection (BACs please, no cash or paypal, Once payment cleared I'll transfer v5 to your name . (can do this in real time on day collection if you've got time )
this is a private sale and item is sold as seen
No warrantees or returns, onus is on you to be happy with what your buying please Come have a look.