1984 Yamaha RD500LC Early 47X Model Original
View on eBay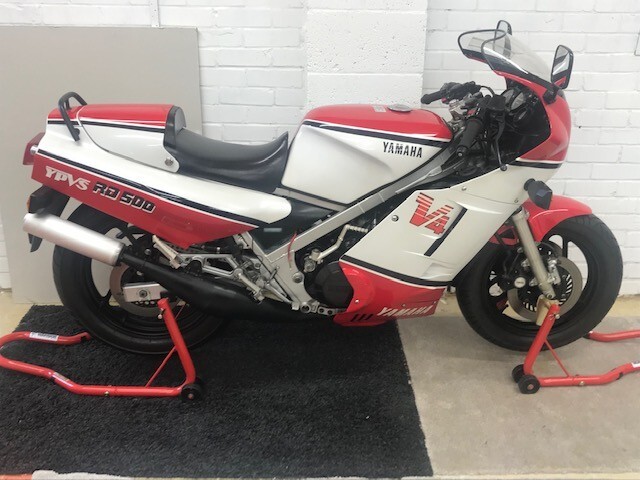 1984 Yamaha RD500LC Early 47X Model Original
Thank you for taking a look at my 1984 Yamaha RD500LC, an early 47X example that was manufactured in July 1984. It is now UK registered on an A plate, which is correct for its manufacturing date. I imported the bike from Portugal in 2020 and have the import information available. Additionally, the V5C is available in my name, and I am the only owner registered in the UK. The bike is French specification, which is the same as the UK spec except for the km speedo, and it has only traveled 38k kilometres (approx 23k miles), which equates to 974 km per year (about 600 miles per year). The km clock has been changed to a UK mph version, but the original is included in the sale.
Please check the photos for the overall condition, or even better, come and take a look. This bike is 100% original, down to its original front and rear brake hoses, radiator and oil tank covers, lower front grill cover, and a full rear mudguard, but it is a 39-year-old bike and has some patina. However, it's only original once, so I've resisted the usual full bodywork re-spray. You can make that call.
In addition, with this bike, you will get the following:
1/ 2 x Genuine "Yamaha Keys" plus the metal plate with stamped key no.
2/ Genuine "Full" LC 500 Toolkit & Original Bag – See Picture
3/ Genuine Yamaha Workshop Manual
4/ Genuine Yamaha Owners Manual
5/ Genuine Yamaha Dealer Service Book – "Sonauto Importers"
Now to the business end of things:
1/ This is a 7-day auction with no reserve, and a strict condition of sale is that the bike is collected, and full payment is made within 7 days of the auction close. Please only bid on this bike if you can meet this condition, intend to purchase it, and pay the full amount within this timescale. This is a strict condition.
2/ While there are no bids on the bike, I might entertain offers. However, once a bid is made, the bike will remain in the auction until close. This is a no-reserve bike, so the highest bidder above the start price will get it!
3/ I highly recommend you come and view the bike to avoid any misunderstandings on your collection. Additionally, you can see what a great bike you will be getting. The bike can be viewed in Staplehurst, Kent. Sorry, no test rides without a full deposit on hand, but the bike can be run up as on paddock stands (not included) to go through the gears.
4/ Overseas interests, please kindly contact me before bidding. I reserve the right to remove any bids from those that don't.
5/ I cannot deliver anywhere. Collection is from Kent only. Once again, I strongly suggest you come to see the bike before bidding or purchasing, but I do understand that some may have to travel from afar. However, it would be worth the trip as I will provide tea & biscuits (the good one's)!
6/ This bike is an original example, and as such, there are some small fractures to the mid fairings by the location bolts (this is most common), and a lower belly pan bracket (RHS) will also need repair. I can forward specific pictures of these upon request, but they do not detract from what is a solid 8.5-9.0/10 bike. The starting price of the bike reflects these issues.
7/ I will require a £1000 deposit on auction closing with the full balance on your collection within 7 days auction close.
eBay item number: 256013316411
Listing expires: 24-03-2023