1980 Kawasaki KZ1300B Touring Unregistered US Import Classic Running Restoration
View on eBay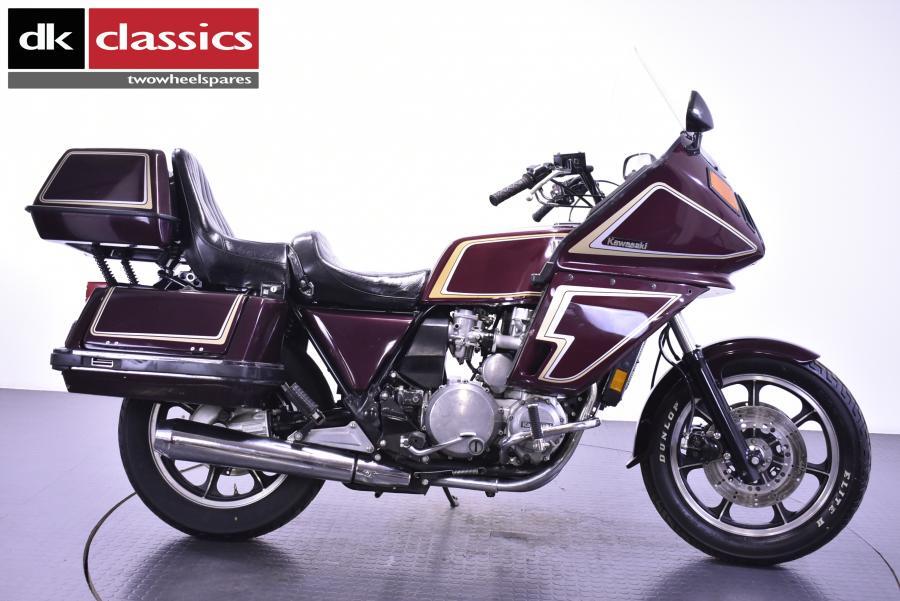 1980 Kawasaki KZ1300B Touring Unregistered US Import Classic Running Restoration
This 1980 Kawasaki KZ1300B Touring is a well-respected and much sought-after classic motorcycle that has recently been imported from North America, where it has spent its entire life in a climate that is far kinder to motorcycles than ours. As it is a Tax & MOT exempt motorcycle, it is perfect for those looking for a low-cost restoration project.
PLEASE CHECKOUT THE PICTURES…….. As you can see, this bike is remarkably original and nearly complete, missing just the ignition key and the right-hand side panel badge. It has been sitting for a while, so the battery is flat, the paintwork is slightly faded, and the seat covers are punctured.
BUT NOW FOR THE GOOD NEWS……… This is the actual bike you are bidding on – not library pictures from 43 years ago, and it is every bit as nice as it looks here…..A true time warp machine! The wheels are straight with nice clean alloy, good discs, calipers, and working master cylinders. The forks and yokes look straight with good chrome, and the mudguard is solid and tidy. The instruments and switches look good, and the carburettors are free sliding off the twist grip. The paintwork is slightly faded but solid, and the fuel tank is useably clean inside and half full of stale fuel. The exhausts are original and solid, and the seat bases are in good condition throughout. The indicators are tidy, and the chain guard is tidy, as is the grab rail. Shock absorbers are damping fine. The engine is cosmetically clean BUT BEST OF ALL when we hooked it up to a good battery and fed it fresh fuel from a dummy tank, it fired up, started, ran and revved.
We have been unable to confirm the mileage reading, so please disregard it. Please check out the pictures for a better description of the bike's condition.
This bike is a great restoration project and has the potential to be a true classic motorcycle once again. Please feel free to contact us for more information or to arrange a viewing.
eBay item number: 314468267094
Listing expires: 26-03-2023